The Saga of a Royal Wedding Rendezvous at JW Marriott, Mumbai
From the charisma of pretty pink-themed Mehendi to the glamorous sangeet night with the luxury feels, this Royal Red wedding of Shruti & Utsav was full of stunning moments. With distinct themes of colourful carnival and memorable moments from Mehendi, 7X Weddings planned this royal wedding saga to perfection; a few peeks of which are shared below.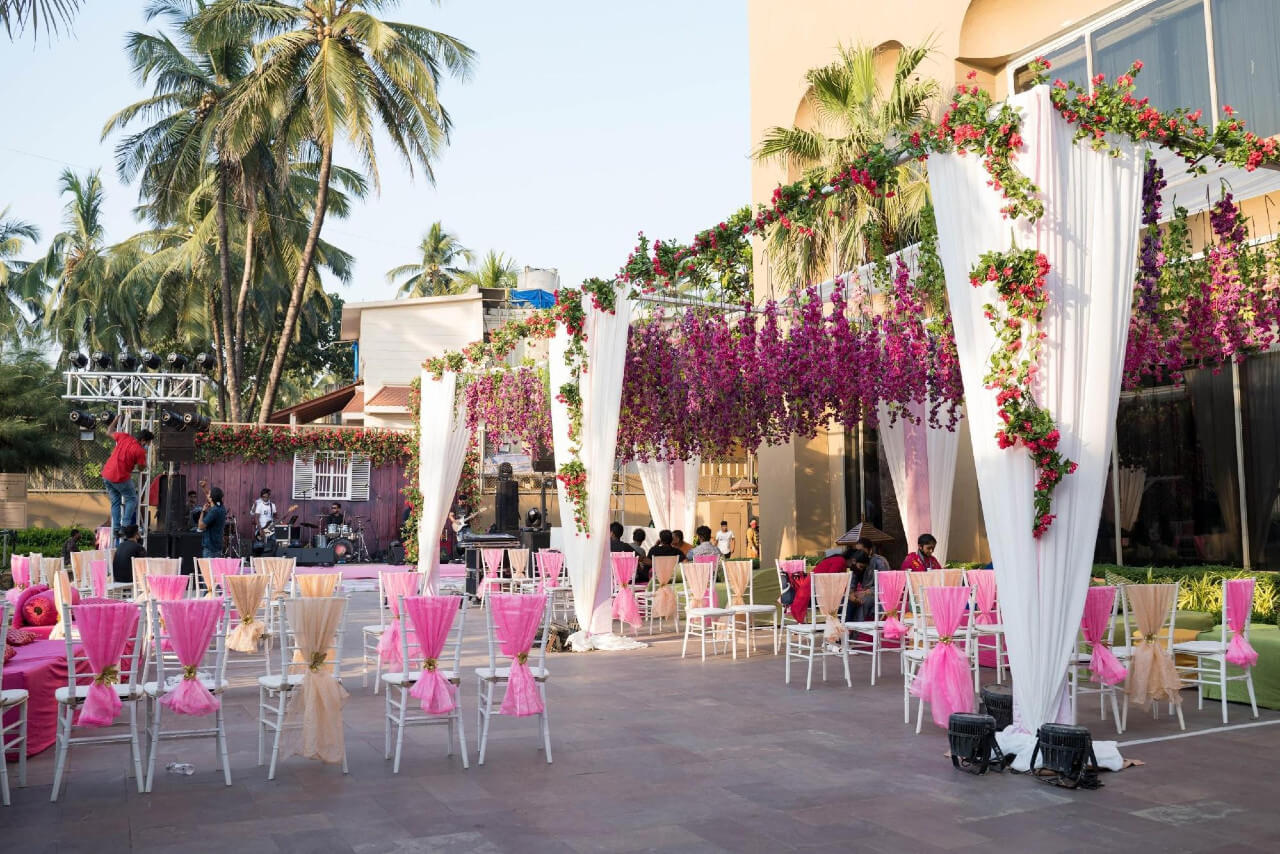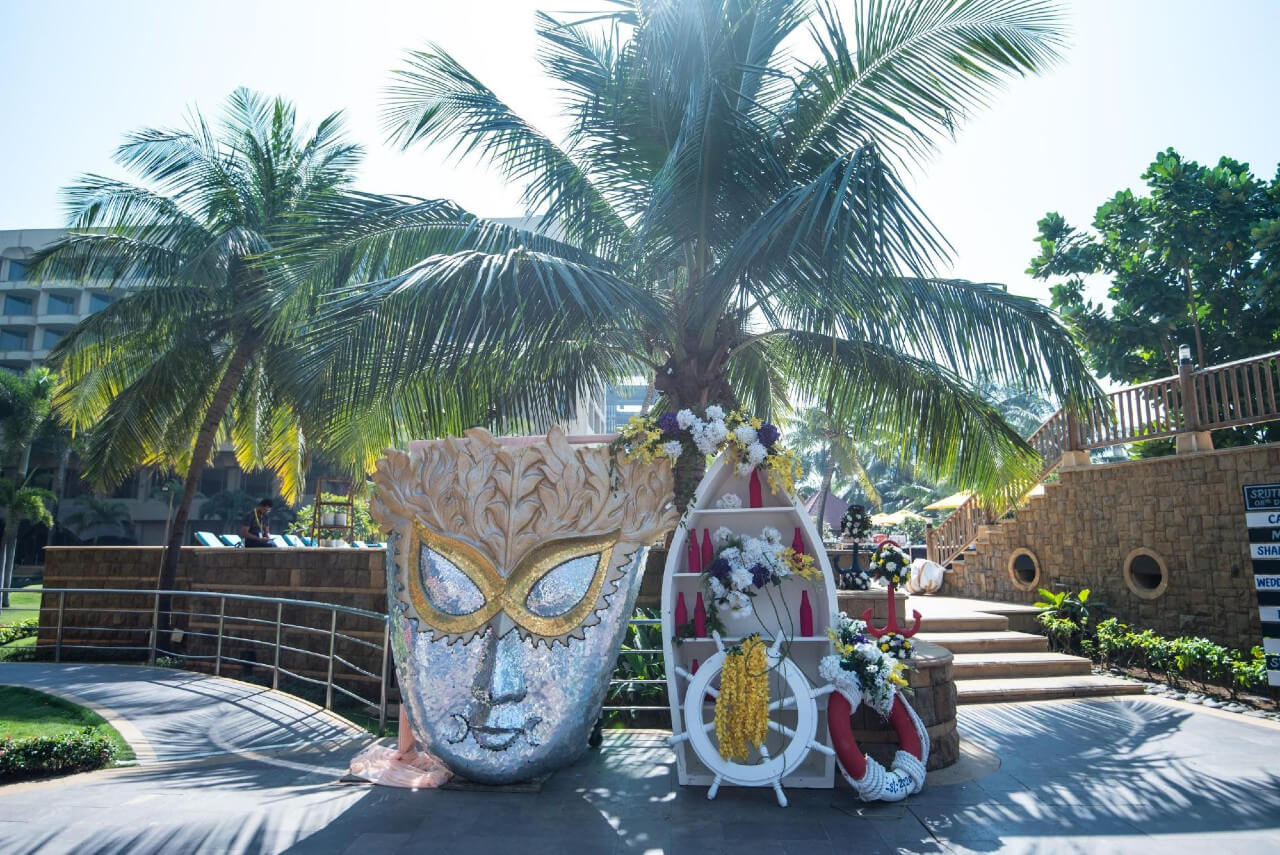 Mehendi and After-Party
The carnival of Shruti & Utsav's grandeur wedding kick-started with some bold and beautiful pink & purple Mehendi theme ceremony that was held at JW Marriott, Mumbai. Nothing gives you more eye-catching pictures than a bright and full-of-colour Mehendi decor on a lawn. Going with the cute pink flowery decor for the open Mehendi ceremony, we thought about having a pretty mehndi decor with the prettiest pictures that guests can look back in awe! The Bright pink floral outdoors with photo booths and a well-decorated jhoola is the norm these days, so we planned for an amazing picturesque floral jhoola along with an 'all-the-shades-of-pink' backdrop which indeed dazzled the Mehendi photos!
Following the Mehendi ceremony, an after-party was scheduled to add some more fun to the day! We glammed up this indoor party with an extravaganza of Bougainville creepers, pink and white inverted tassels and tons of pretty pinks. Adding some aesthetic detailings to the decor, we fixed turquoise frames and props, making it a perfect selfie wall. We loved how this decor had multiple seating arrangements for guests to sit and enjoy the Mehendi function comfortably!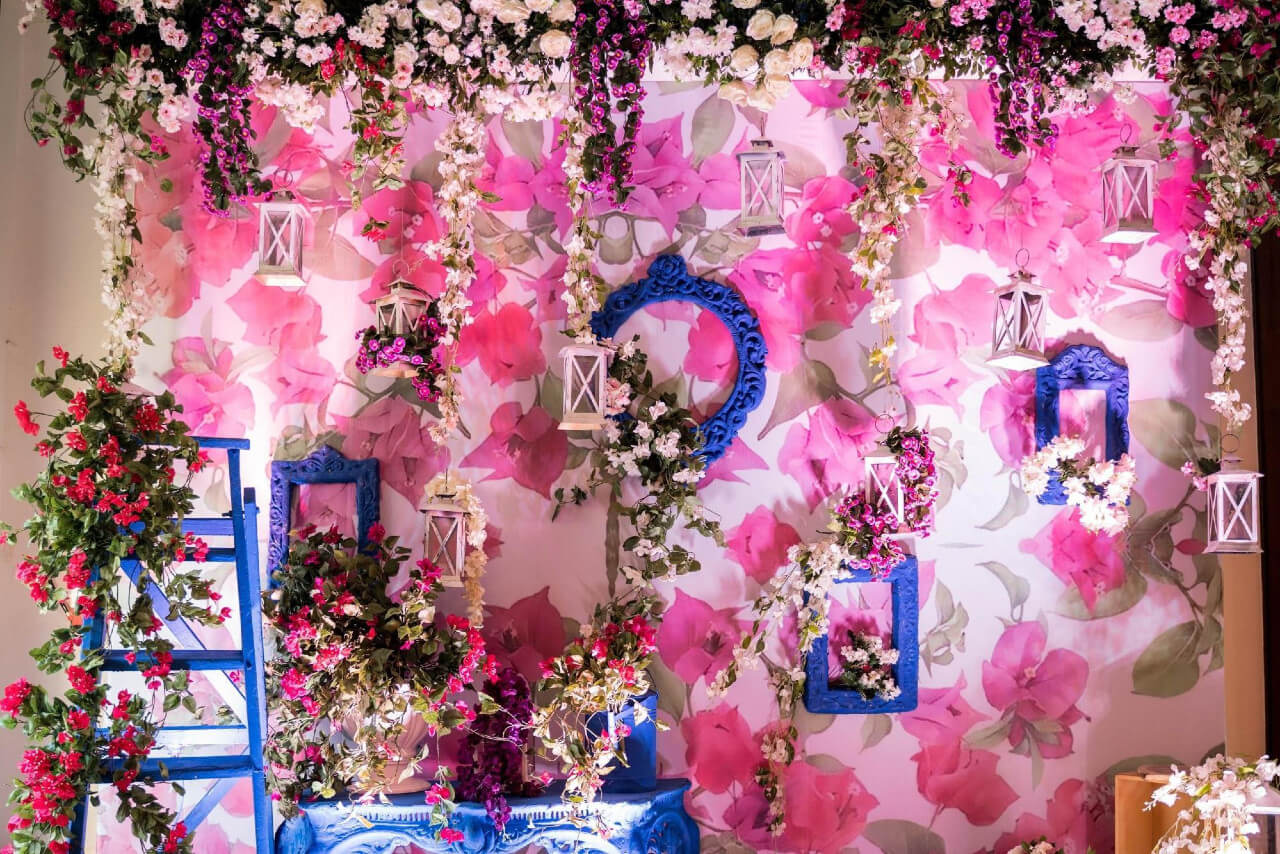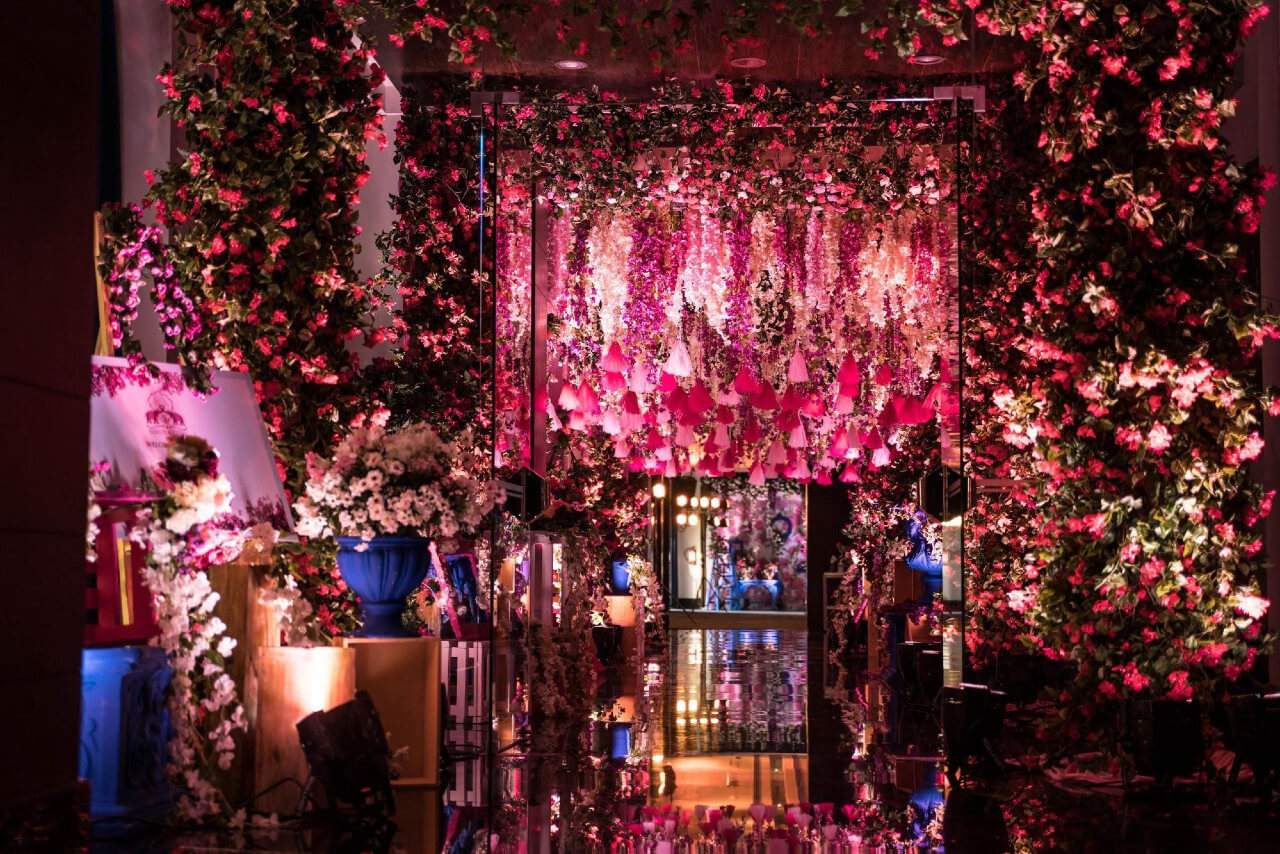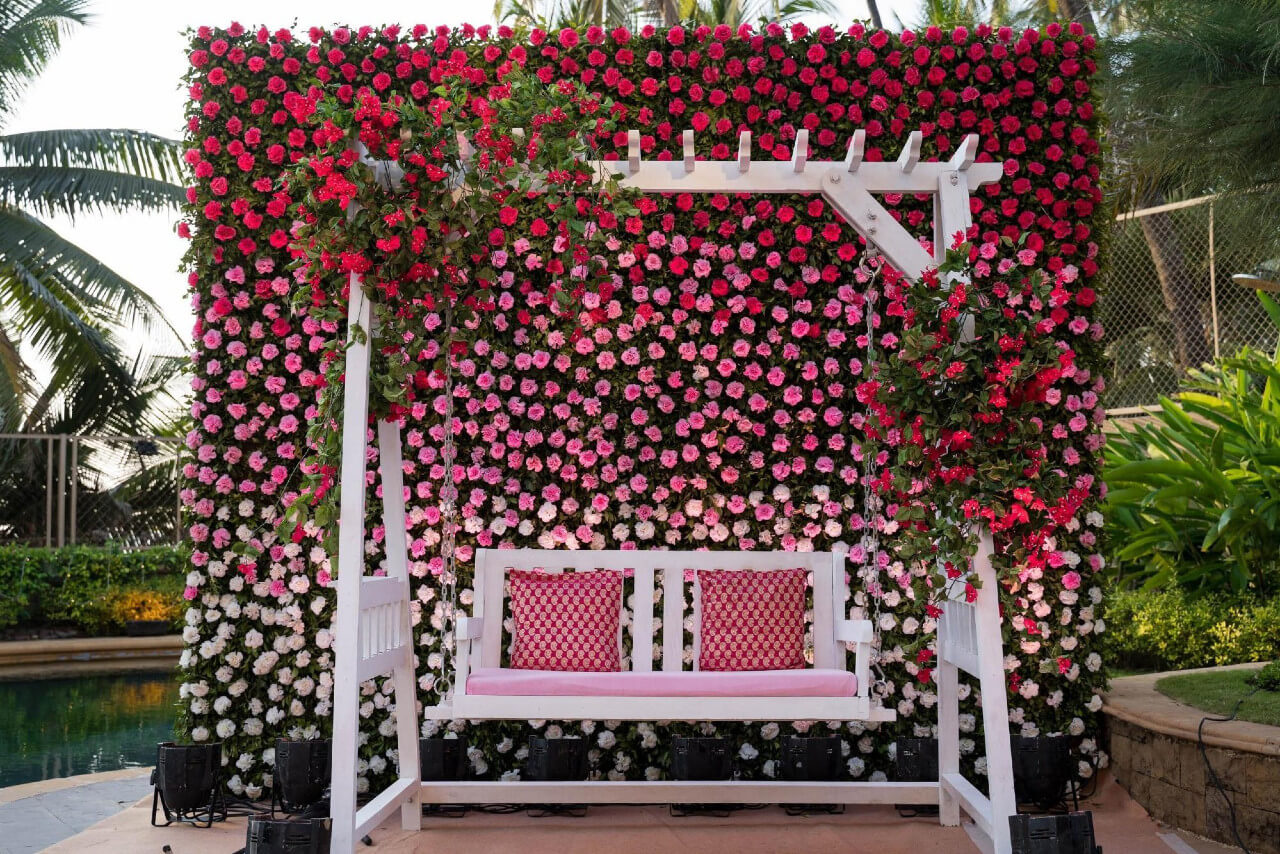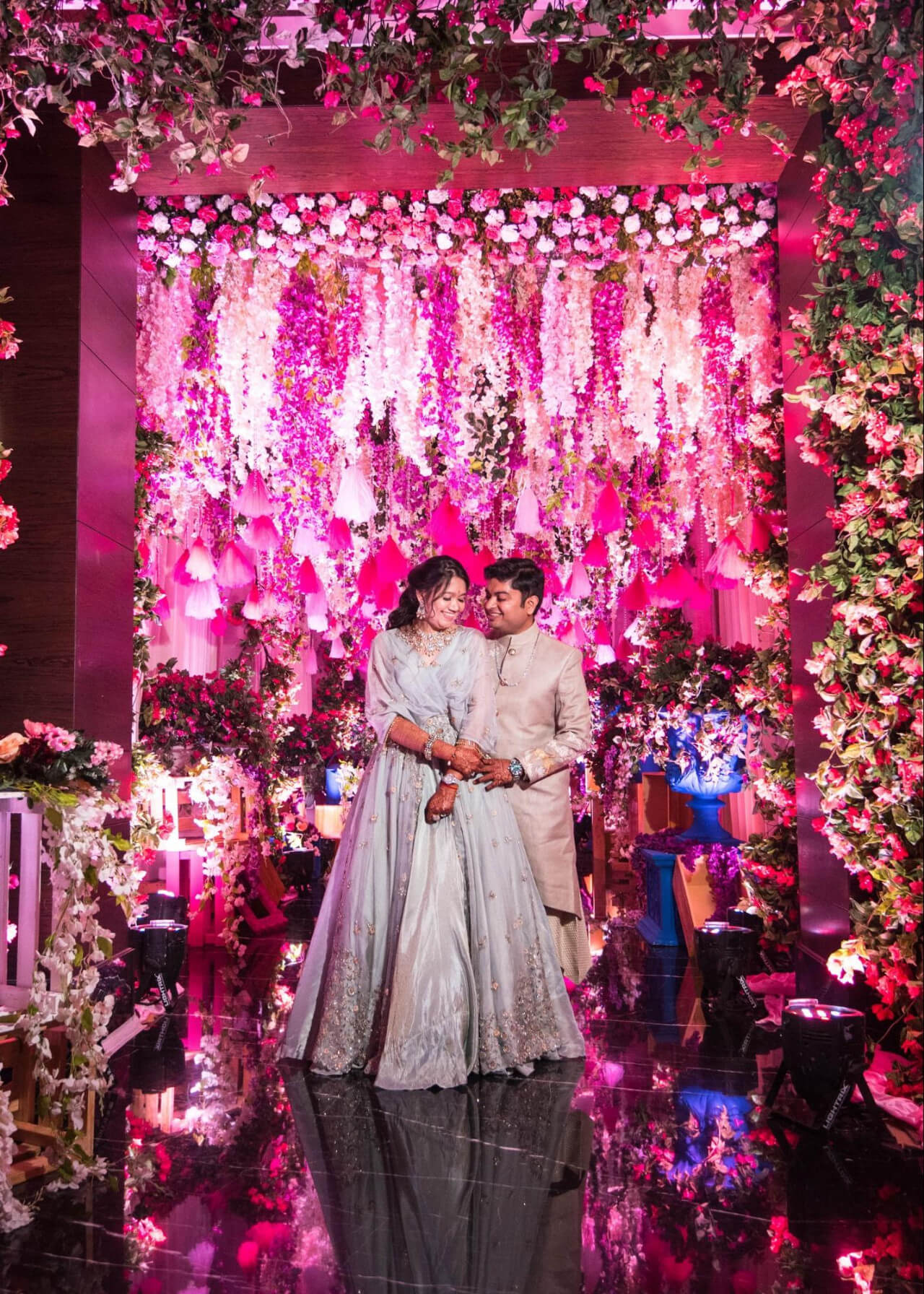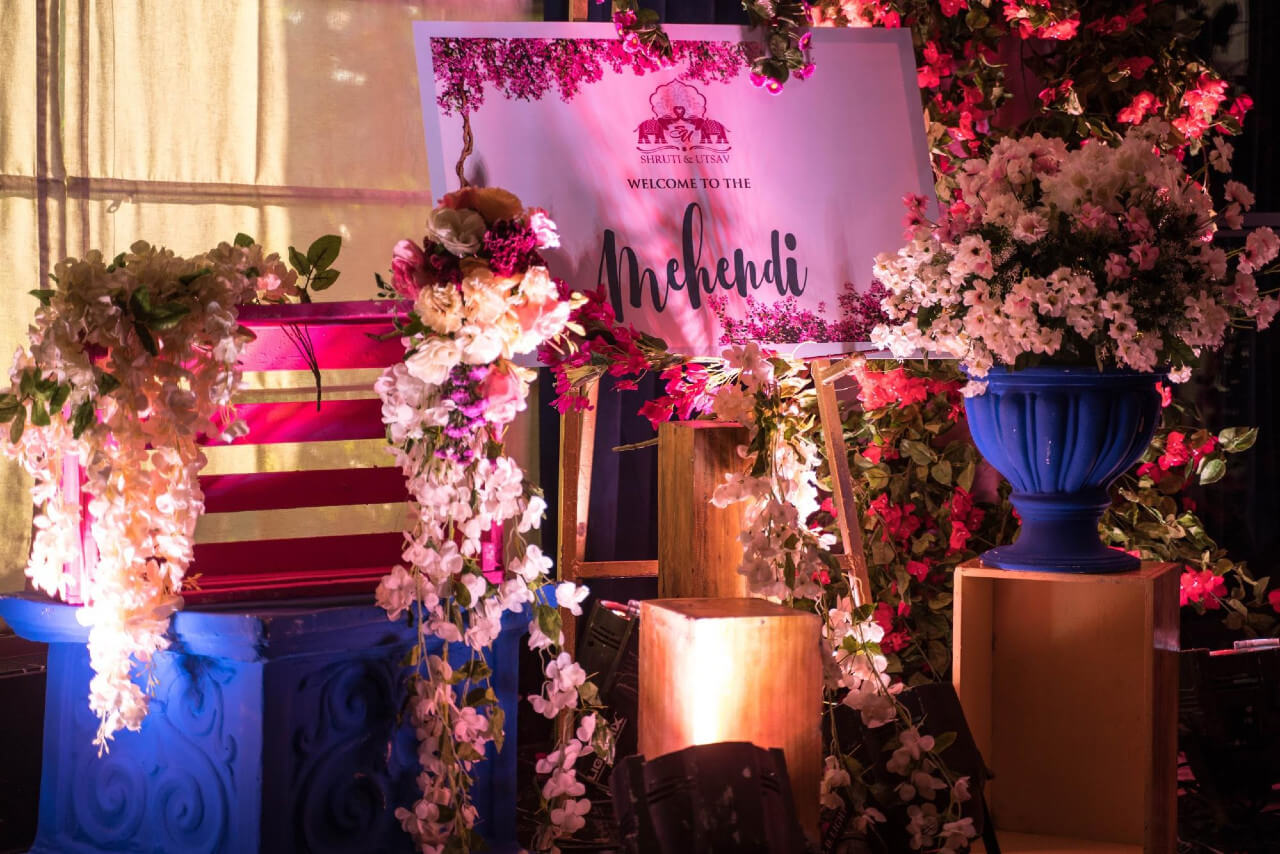 Mayra - Celebrating the Old Traditions
Following the Mehendi day, to celebrate the age-old traditions, the Mayra ceremony, one of the pre-wedding functions, was planned at the spectacular venue. Mayra plays a very crucial role in the Hindu wedding festivities and ceremonies. Keeping this one simple yet elegant, we chose the forever in - 'Genda Phool theme. Decorating the entrance with beautiful flowery drapes and hangings with white & orange theme decor was indeed a lovely choice! It was all bright and colourful, and the overdose of marigold flowers only made it better!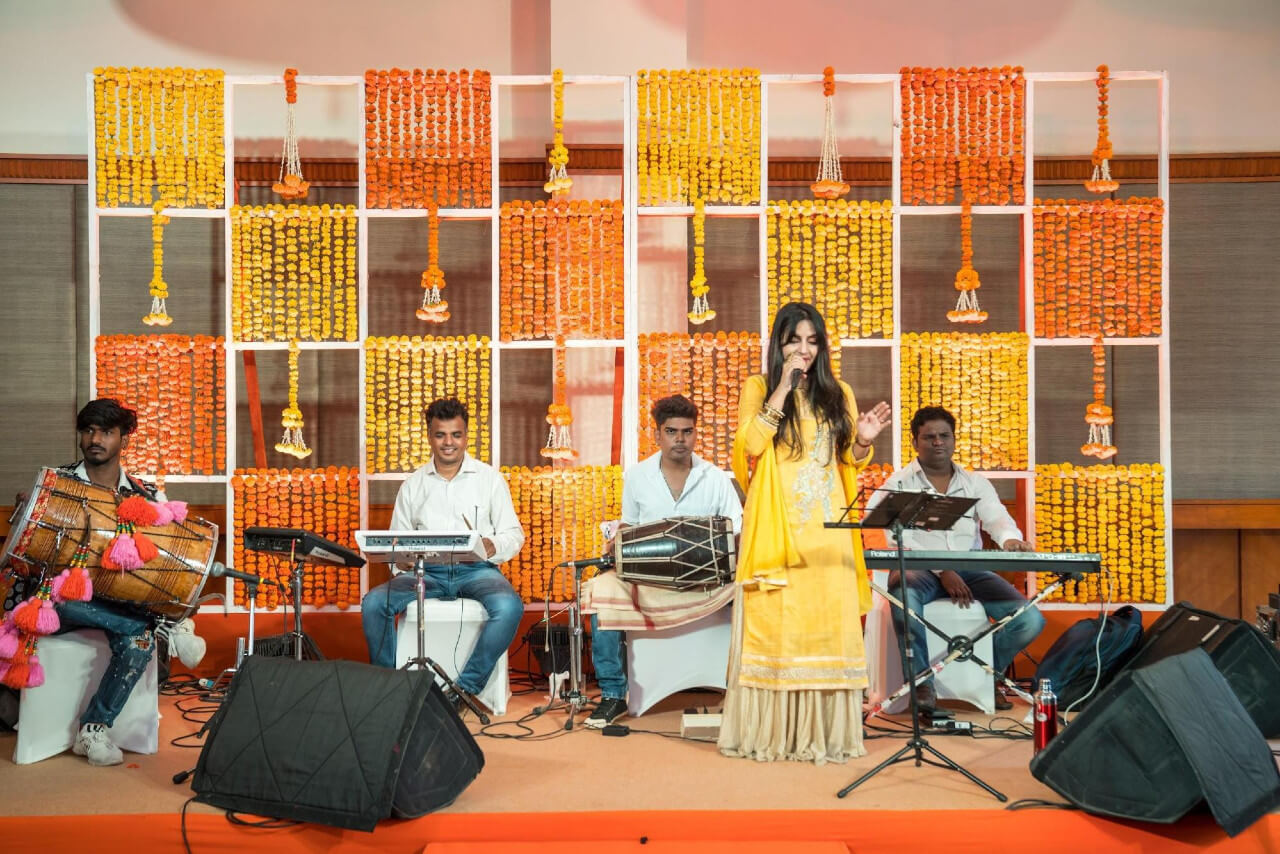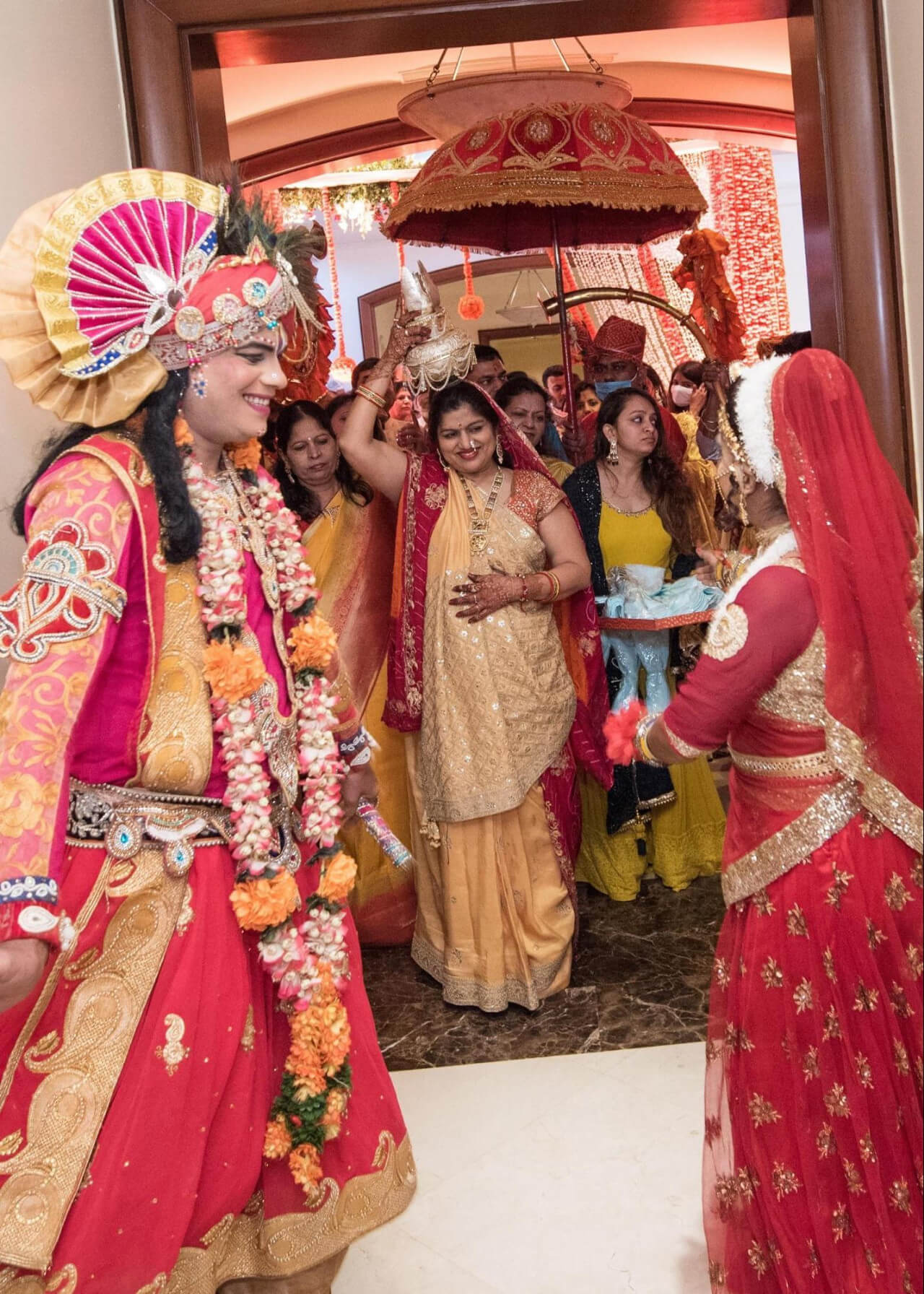 The Quirky Cocktail Carnival
A good cocktail party allows everyone to mingle without any rules, timelines and rituals. It's just a day to be yourself with your friends and family before the wedding day arrives and everybody becomes emotional. Therefore, to make it more special we gave it a breezy colourful touch by going for a sunny tropical beach cocktail carnival, ditching the night glam. Here we opt for super quirky and peppy theme decor with all the Goan feels. From an entrance lined with colourful curtains to colourful and popping decor elements like hanging lamps and canopies, we chose to be quirky with this cocktail party decor idea. Highlighting the small personalised details, like corner decors, the contrast seating arrangement, carnival dancers, and the masquerade theme party, it was all about a bubbly bash!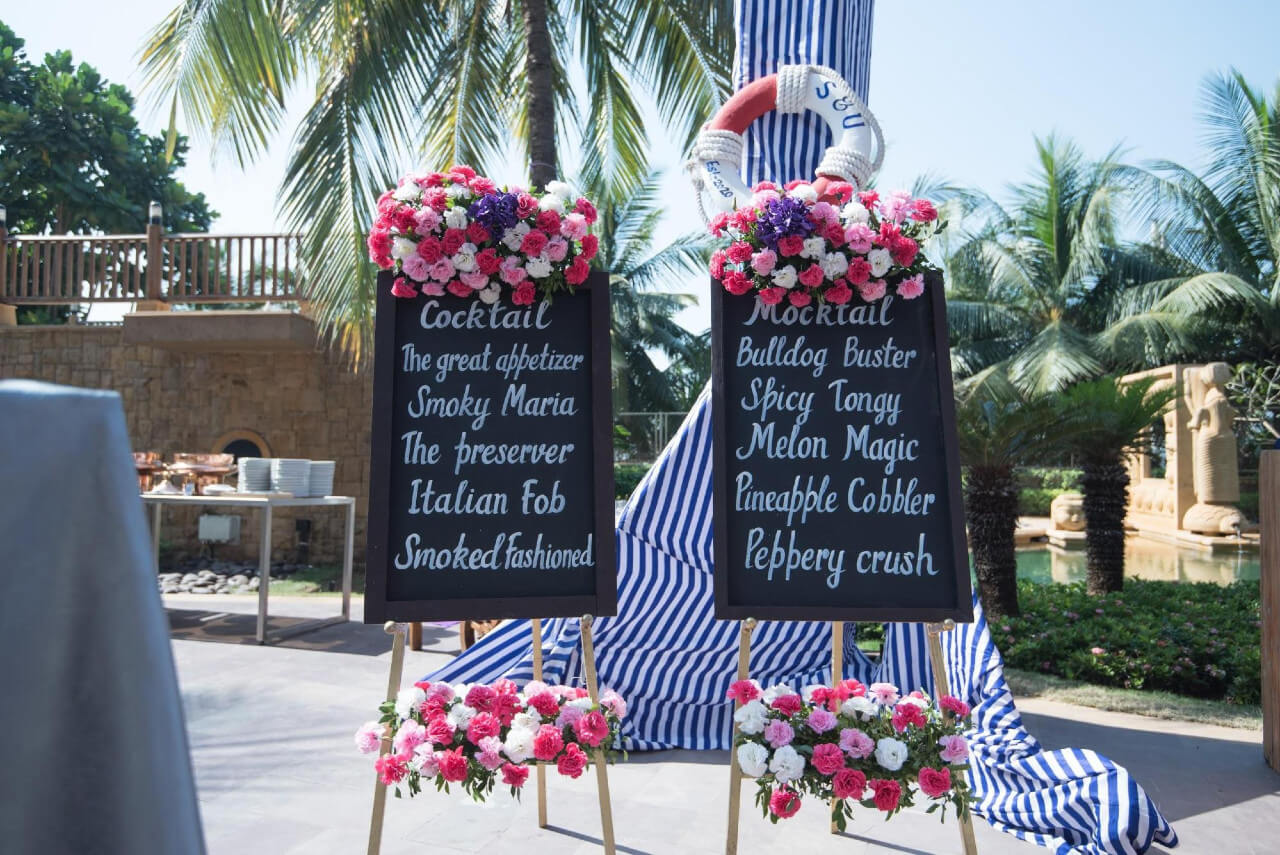 All the Glitters & Gold At Tikka & Sangeet
Post this, a grand Sangeet & Tikka ceremony was planned at the spectacular JW Marriott. In their true extravagant style, the bride and groom were dressed to kill, literally! Shruti looked mesmerizing in a shimmering sky blue lehenga while Utsav perfectly complemented her in a chic black tuxedo. With memorable performances by their near and dear ones, the sangeet evening was one affair to remember! For Shruti, however, dancing along with her to-be spouse to the timeless romantic beats was the most cherished memory from the event. The Bollywood screen decor with the hanging bulb lights surely added to the charm of their night!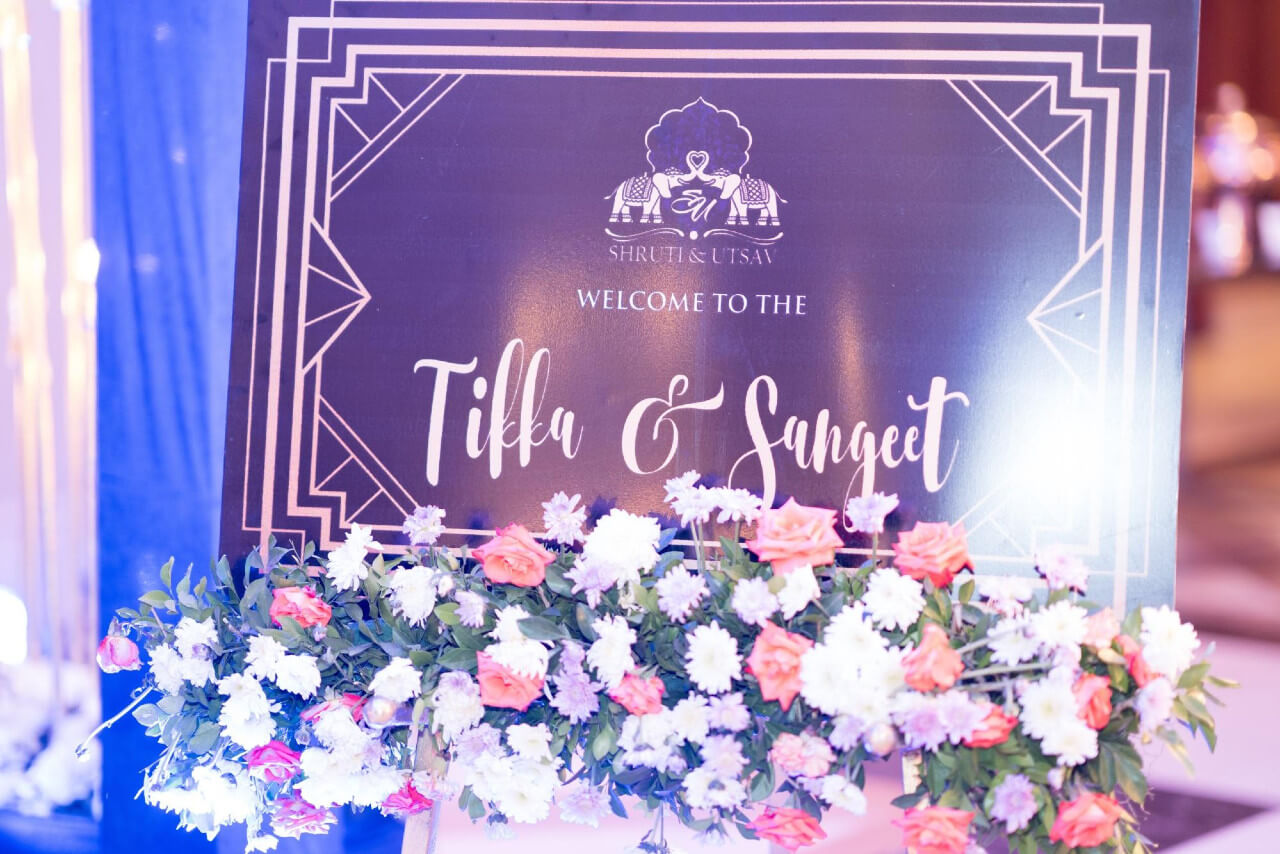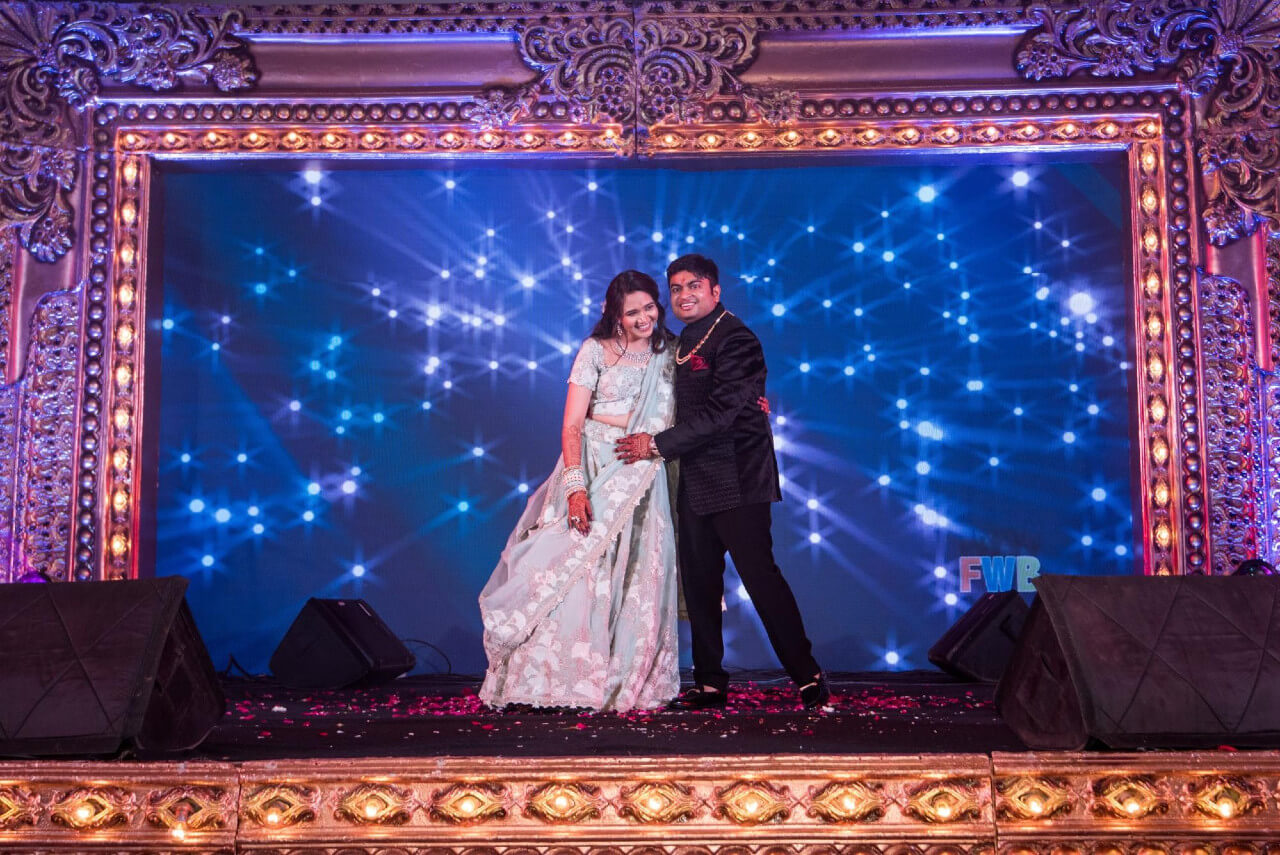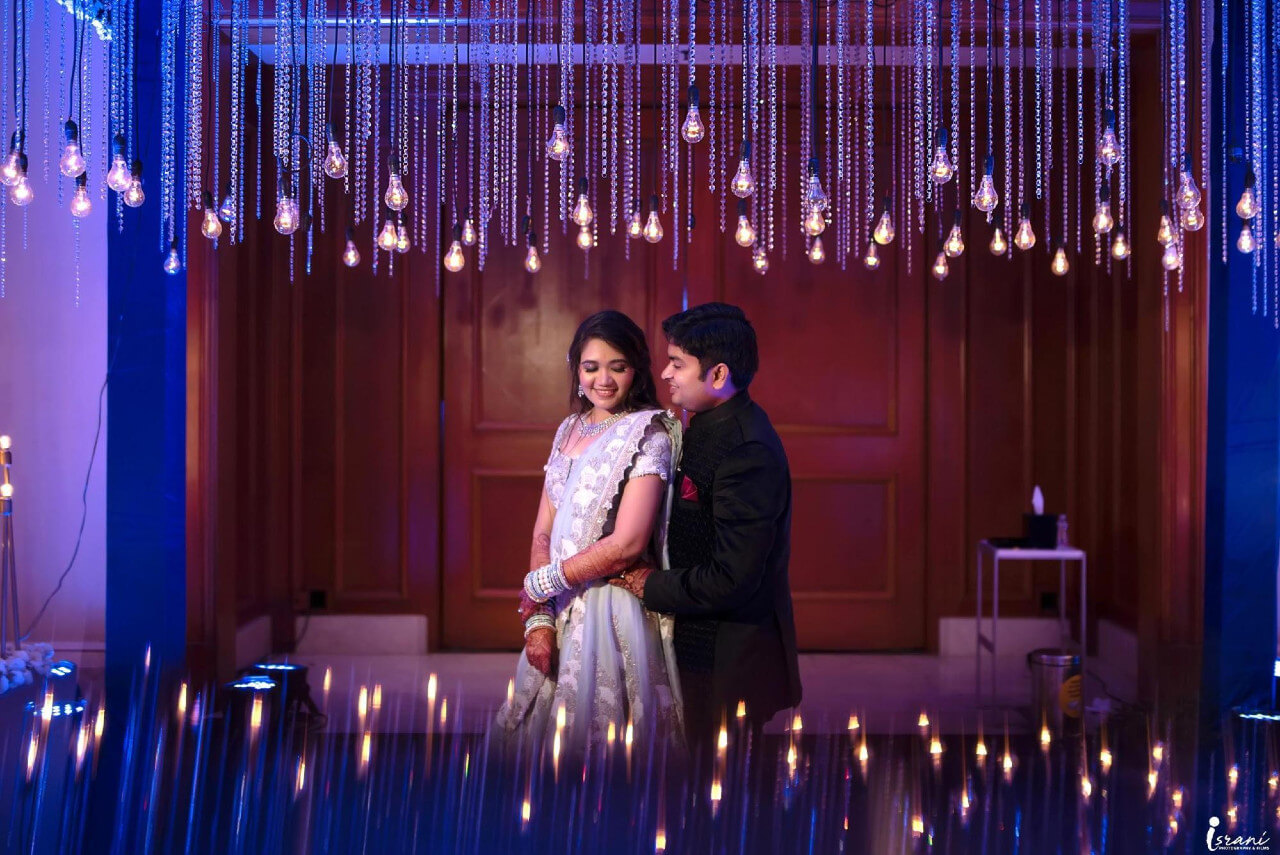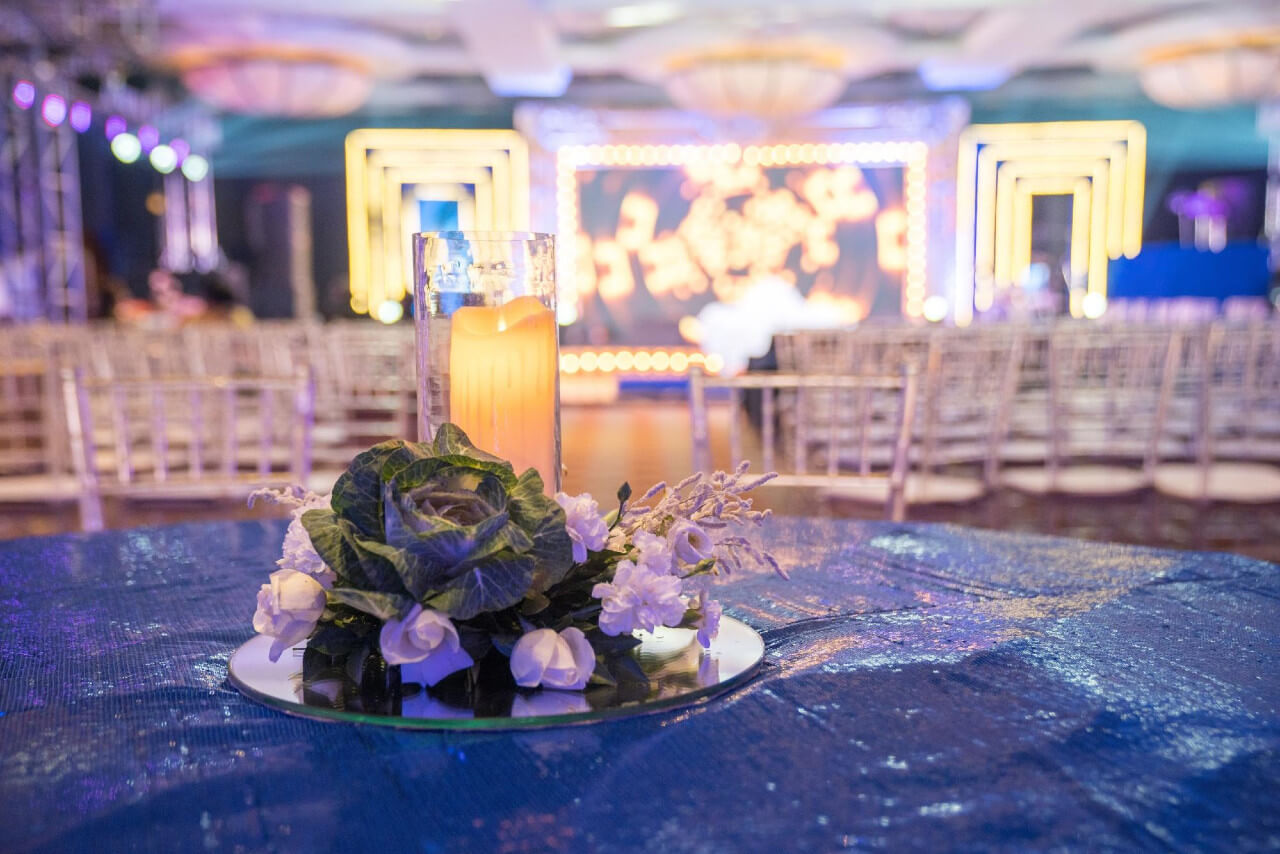 The Royal Wedding Day
Finally arrives the 'Royal Wedding Affair' of Shruti & Utsav counting on the majestic royal vibes. Adorned with the Royal Red bed of roses and magnificent chandeliers, the Groom was welcomed in all the Maharaja feels.
Doused in warm complexions of reds with a glimmer of drama & distinct facets, the decor for Shruti & Utsav's Wedding was a sight to behold. It glimpsed a royal flooring, rustic golden seating arrangement, larger-than-life chandeliers, flowy drapes and loads of candles & flowers, all coming together to set up a royal wedding affair. However, our favourite part from their antique corner decor was the exquisite entry walkway that had live dholis and dancers as a key decor element.
Looking like a regal bride and the royal groom, Shruti & Utsav then made their veil towards the most dreamy heaven- the mandap. With the colourful floral overdo for the mandap with the minimalist surroundings, we were all hooked for this magical red affair! There were crystalized chandeliers & mogra trellis hanging down the canopy, and we adored the kind of aroma they created for their blissful union...