Aneri and Ankush's quintessential wedding at the Hyatt Regency, Ahmedabad.
"Our forever starts today" said Aneri, and we at 7X Weddings made sure that the start of that journey was executed flawlessly. The couple wanted a blend of traditional rituals and playful elements. They wanted every guest to participate, enjoy and feel a part of the celebrations and ceremonies.Our expert team ensured that every wish was catered to, and every dream fulfilled for the betrothed couple. Each event was planned and curated based on a theme and full attention was given to details, to make sure that each one was unique and memorable. Weeks and months of brainstorming and planning by team 7X weddings amalgamated to create and bring to life a wedding as cheerful, colourful and charming as the lovely couple. No stone was left unturned, and every efforts were made to ensure that the celebrations were nothing short of perfect. The glowing faces of the guests and the dewy eyed happiness of the couple stands testament for another wedding executed to perfection. The grandeur and magnificence of our decor and setup has been artfully captured by Destination Photographers.Come let's take a glimpse of the festivities.
Taaron ki baarat: The welcome dinner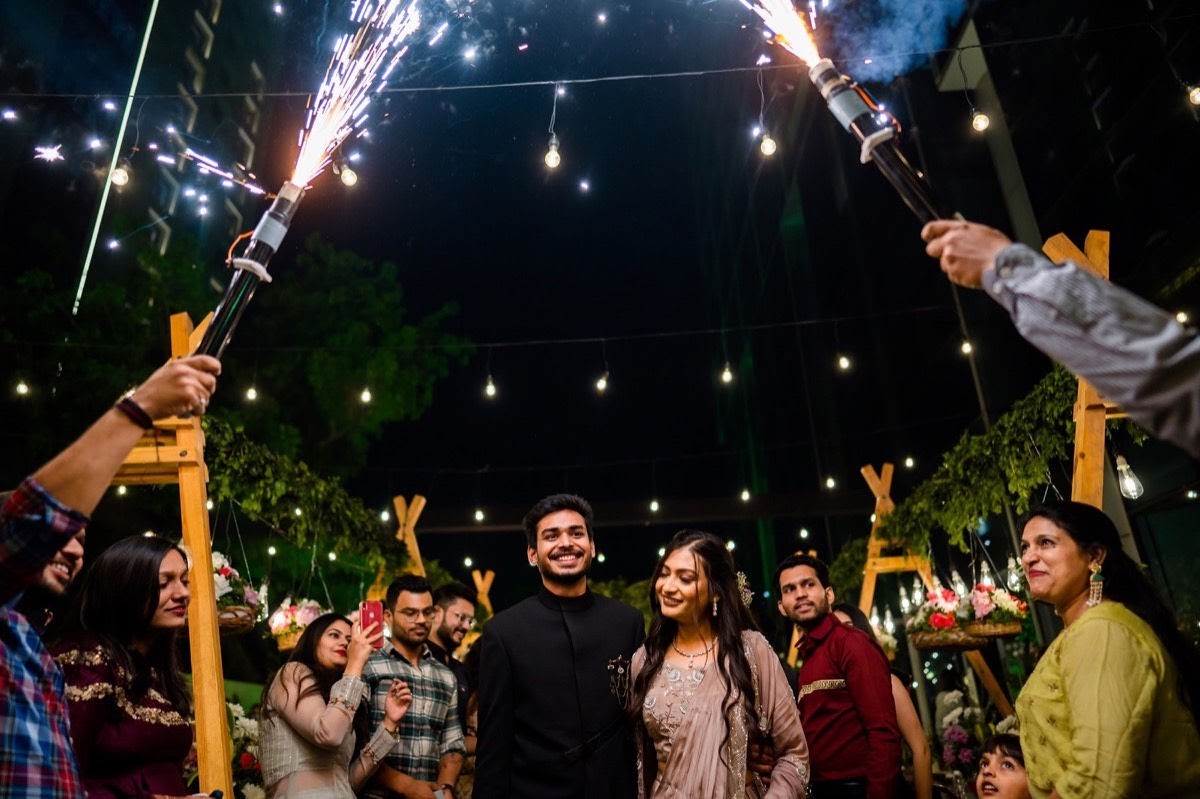 A canopy of million lights shining like stars, and the heavenly fragrance of flowers, welcomed the guests. Low seating tables and pearly white teepees delicately covered in blossoms added a warmth and intimacy to the event. While grand tables fashioned as swings and laden with flowers stole the show. The grand entry of the couple, under a shower of sparklers had everyone in awe and brought a mesmerising start to the celebrations, as Aneri and Ankush moved a step closer to becoming Mr & Mrs.
The Colorful Colossal Carnival
Nothing brings as much joy, cheer and laughs as a carnival: the theme for this grand event. The area was divided and decorated using two styles. Tarot card reader, magic tricks, and game stalls added a riot of colour to keep the party area lively. While baskets and drapes of flowers in every shade of purple added a royal grace as the guest danced under the shades of a pastel cover. Giant jenga, drop the can and so many other nostalgic carnival games kept all guests, young and old engrossed through the night. One look at the radiant faces and we were sure of another event being carried out seamlessly.
Phoolon ki holi: Mayra Matinee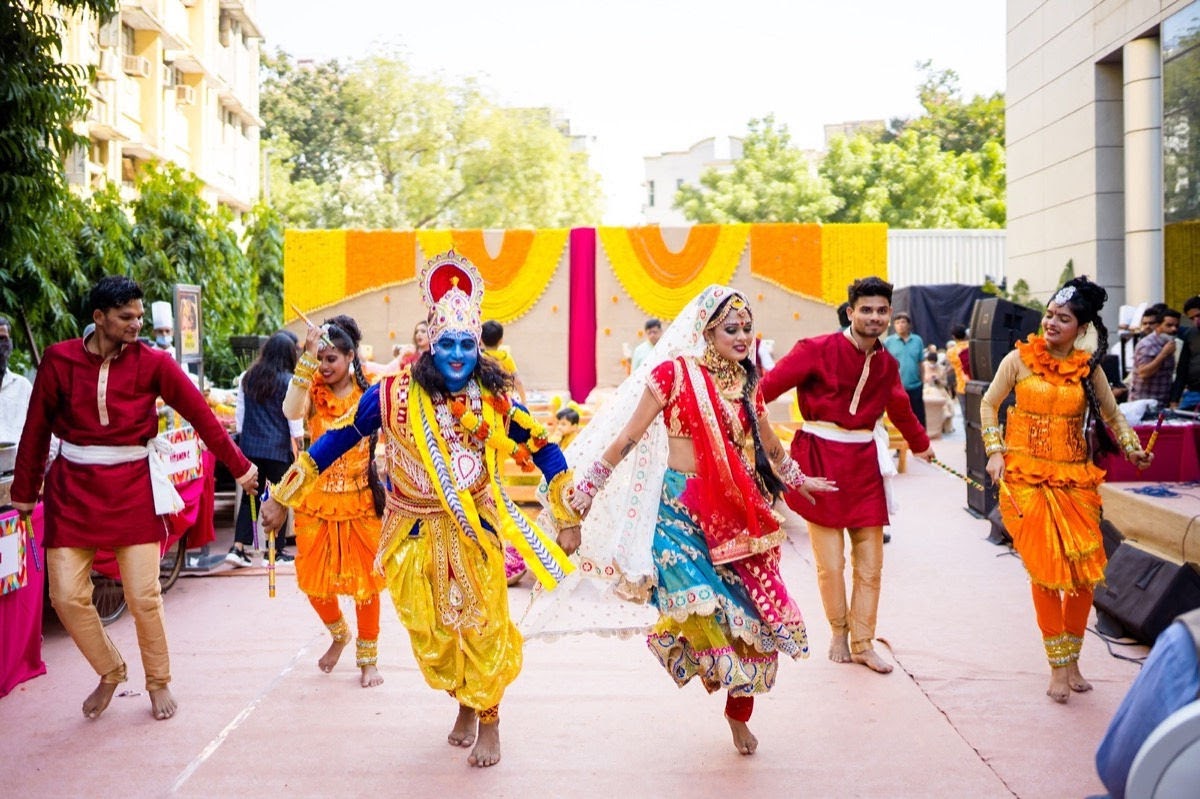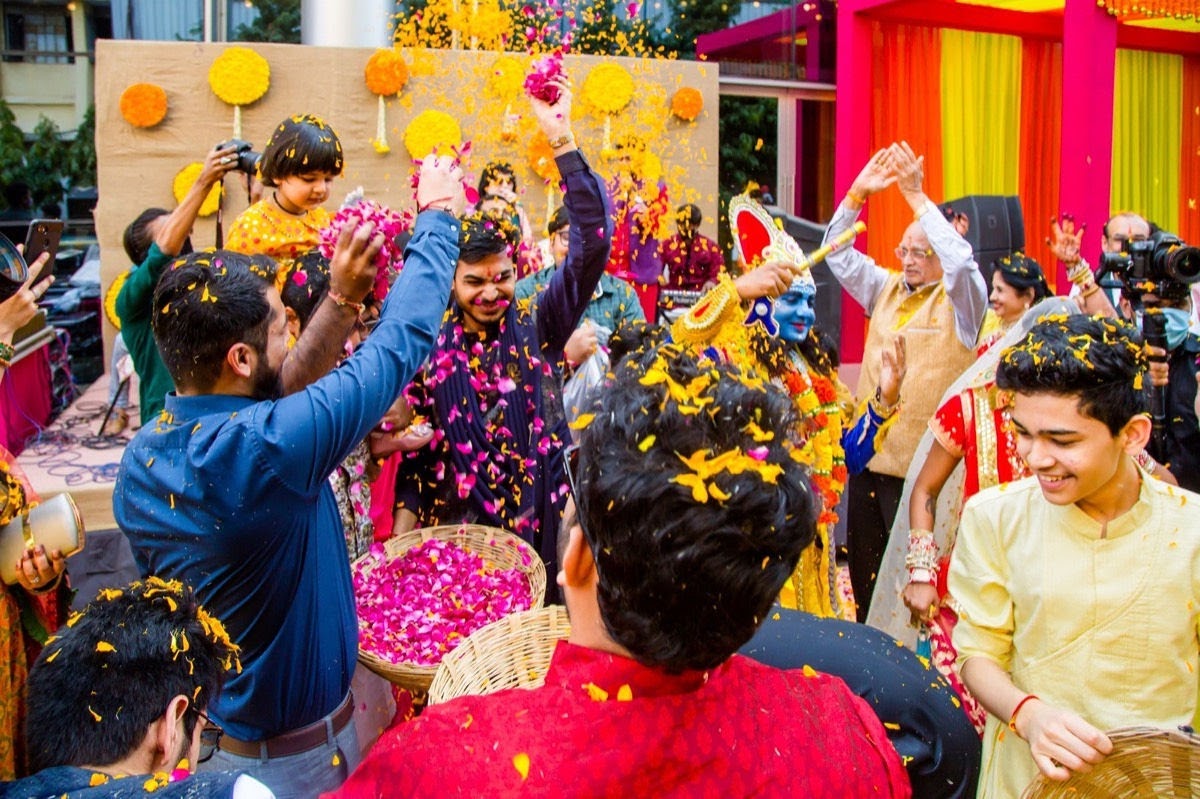 No wedding is complete without traditions, and there is no better way to showcase the rituals of mayra, but with a myriad of genda in flaming orange and yellow. Criss cross curtain of flower overhead and strings of genda highlighted with a backdrop of peppy green and pink added a warm hue to the occasion . The couple wanted a rustic village feel of Mathura and Vrindavan and we gave them just that with Raas Leela, dhols, bioscopes and lucky toss games to keep the guests enthralled. However can Mathura really come alive without the traditional showering of each other with flowers? Imagine a sky filled with streaks of red, yellow and orange as the guest played holi with petals. It was indeed a sight to behold.
Mehefil-E-Khaas : The Sangeet
GRAND. OPULENT. MAJESTIC. So many words...yet they fall short in describing the electrifying energy of the gala sangeet. A walkway enclosed with strings of golden discs, and each side lined with tall golden candelabra provided a beautiful entrance to the venue. An intricately carved woodwork panel, painstakingly painted and embellished to create a replica of a grand durbar provided a breathtaking backdrop for the orchestra, as the family showered their love and blessings on the couple in the form of dance and music. However the crowd puller that evening was our photo booth. Every special moment needs to be captured and every perfect photo needs the ideal photo corner. Can you picture a setting more grand than a high back golden throne standing proud under a canopy of gold and silver strobes to add a dash of shine and sparkle to the click?
Ghodi pe aaye sajna : The Wedding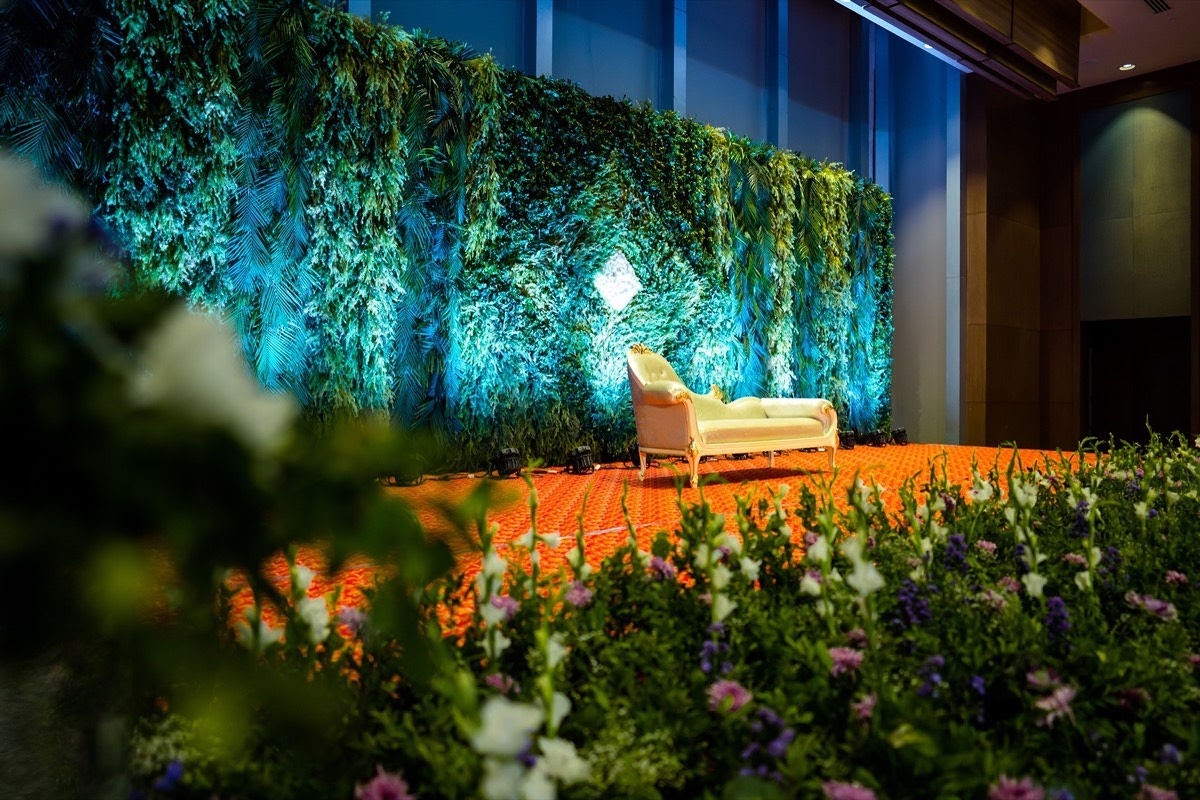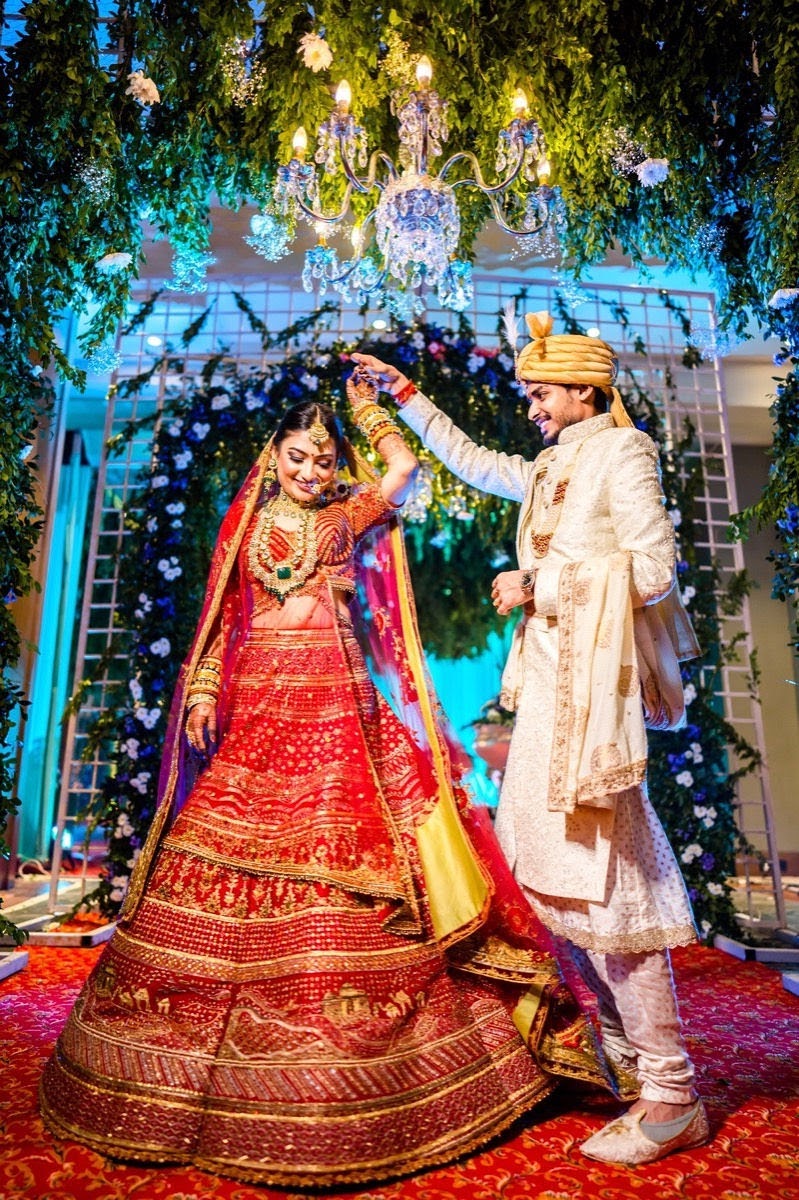 The band played in full gusto as the dashing groom made his royal entry on a snowy white horse stopping only to welcome the shy bride as she made her appearance under a canopy of fragrant white flowers. Together they walked, hand in hand, the glow on their faces brighter than the dazzling multi layer diya thaals that lined the path to the stage. A curtain of green behind, dancers performing a prayer dance with hundreds of diya in their hand and sparkling fireworks marked the beginning of the union, the exchange of var malaa.
The mandap
The most sacred and auspicious element of any wedding, where the bride and groom exchange vows around the holy fire. We wanted to create a mandap that stood out in beauty and grace , but yet was subtle enough to not take away the attention from the ceremony. Team 7X loves to design with flowers, we firmly believe that there can never be too many, so we created a masterpiece using only a combination of white and red flowers. Simple, elegant and delicate, after all what can be more rich and pure than fully bloomed flowers.