Top 5 wedding destinations in India
"A wedding is the coming together of two souls, two families, and this new relationship needs to be forged in a beautiful and memorable way."
Traditional weddings can take a lot of planning and preparation, as a result of which the immediate family and the near and dear ones of the bride and groom miss out on the intimacy and joys of the celebration. A destination wedding, planned and managed by a competent planner, provides an opportunity to the entire family to take part in the merriment.
With lavish palaces, luxury hotels and a bounty of natural beauty, India is one of the most popular destinations for weddings.
Here are our top picks for you.
JODHPUR: INDIA's BLUE CITY
Make your dream wedding come alive in Jodhpur. With lavish palaces and romantic gardens, this city is perfect for a wedding steeped in tradition and royalty.
The grandiose of the Mehrangarh Fort stands guard over the lanes lined with houses and havelis. With bazaars selling trinkets and shops serving delectable fares of mirchi-vada, pyaaz ki kachori and doodh phirni, Jodhpur is a storehouse of Rajasthani traditions.
The Blue City offers a delightful display of colours, smells, sounds and tastes. With an array of hotels and properties to choose from, Jodhpur serves as a choice destination for a stately wedding.
We recommend: Umaid Bhavan Palace
Sitting atop the city of Jodhpur, Umaid Bhawan Palace is one of the grandest palaces of India.
The Palace is a blend of eastern and western architectural styles. The opulent interiors and exquisite artwork highlights the grandeur of this property.

This stunning location can make any dream wedding memorable and grand with its blend of tradition and luxury. The venue, themes and cuisine can be designed to capture the culture and culinary traditions of this magnificent state.

TIP : Feel like a king; book an airport pickup in a vintage car provided by the hotel.

JAIPUR: THE HEART OF RAJASTHAN
The breathtakingly beautiful city of Jaipur serves as one of the most romantic places to get married in. From its palaces to grand heritage hotels, Jaipur provides a perfect blend of royalty and elegance.
If the magnificent palaces of Jaipur, inspired you to dream up your perfect and royal destination wedding as a child, you can now make those dreams come true, since most historical monuments are now open for hosting events.
If a royal wedding accompanied by the beats of dholak and shehnai, soaked in lavish luxury is what you desire you have arrived at your destination.
We recommend: City Palace
Standing grandly in the heart of the city, the palace complex offers a lavish location for a stately wedding.
The architecture is a blend of European and Asian styles, and the red and pink stones of the structure give a royal touch to the facade. With a vast area comprising of several buildings, courtyards and gardens, there are several options for hosting theme events in a variety of locations.
If royal is how you want to describe your wedding, the decorated arches, elegantly attired elephants and camels welcoming the guest is the gateway to your dream wedding.
TIP :Hire the military band to add elegance to your wedding.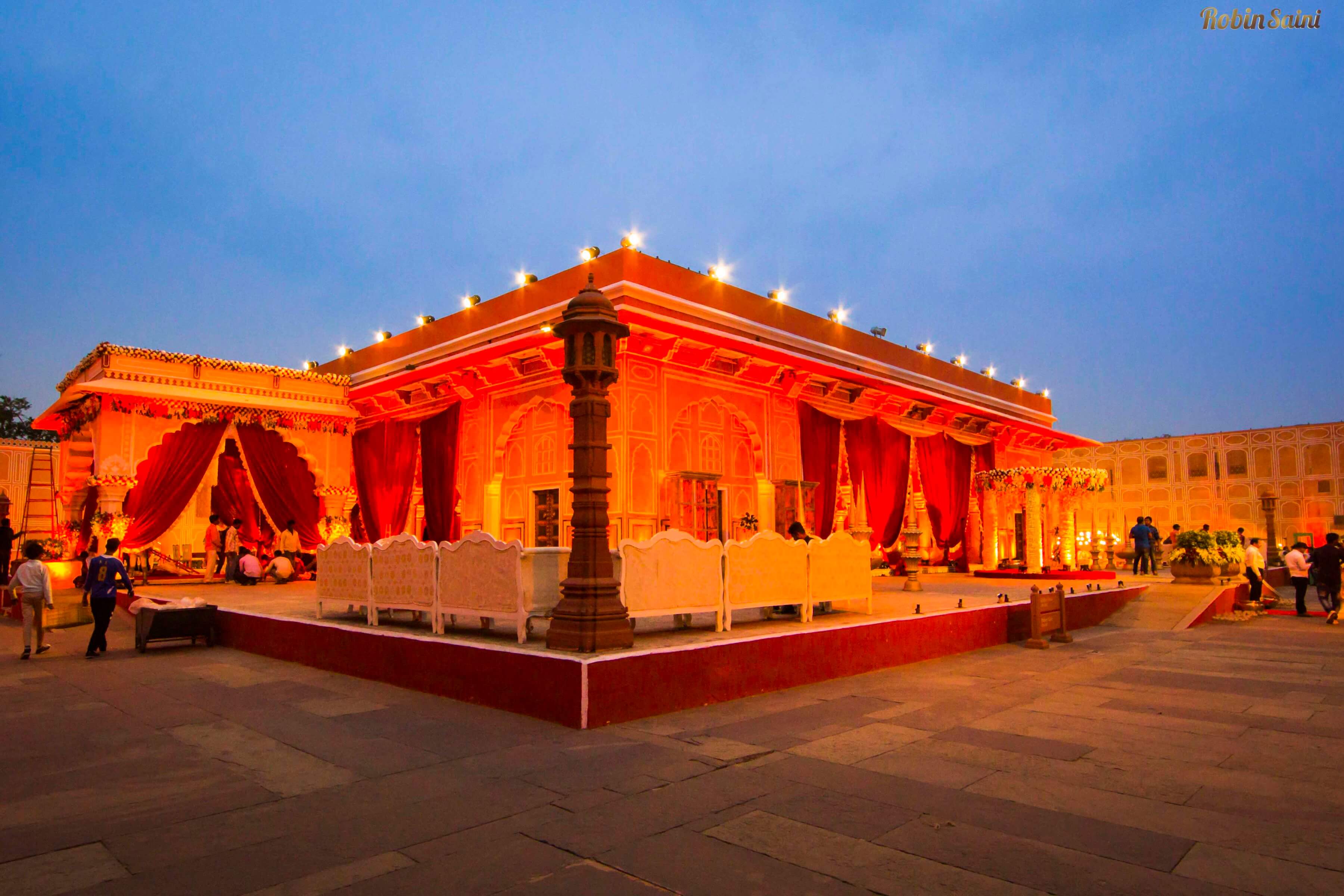 KERELA: GOD's OWN COUNTRY
With gorgeous beaches to a network of serene lakes, from spice and tea covered hills to lush green interiors, Kerela gives you a more rustic backdrop to exchange your vows.
If an intimate wedding in the gorgeous hills and an uninterrupted skyline is of your choosing head to Kofiland resort or Spice village in Thekkady. Say "I Do" under the clear skies with the crashing of waves lending their music at Leela Kovalam or Taj Bekal. If shimmering lakes, and beautiful views till eternity, are calling out to you head to Zuri Kumarakom Kerela Resort and Spa or Vasundhara Saravor Premier Alleppey
Luxurious facilities, efficient service, and thorough attention to detail, in the midst of breath taking views of the backwaters and valleys, make Kerala an idea destination wedding choice.
We recommend: Kumarakom Lake Resort
An opulent resort located on the shores of Lake Vembanad, in the backwaters of Kumarakom.
Kumarakom Lake Resort showcases both the cultural and inherent beauty of Kerala. Spread over 25 acres of greenery, this resort brings alive the heritage of this region with a seamless blend of luxury.
This resort offers innumerable locations, from house boats to a canopy of gold and white, to add a local touch to your wedding celebrations. Theme weddings can be personalised and clubbed with local rituals and flavours to give an authentic feel of the region.
TIP :Let the groom be grandly escorted to the mandap by a group of girls carrying deeyas.
Picture credit – Neeraj Kamra
GOA: THE PEARL OF THE EAST
A magical confluence of Indian and Portuguese cultures, blessed with sun, sea, and sand. A place of serenity and bliss, Goa provides an ideal destination for a dream wedding.
With a coastline dotted with palms, sunny beaches and secluded coves, along with the smells and flavours of the local cuisine Goa quenches every tropical desire
Choose Alila Diwa to add fantasy to your celebrations, or head to the Leela if you want a palatial wedding amidst the orange glow of the setting sun and the Vivanta By Taj Holiday Village is the place for you if luxurious countryside charm is what you need
When love is as endless as the ocean itself, what better place than Goa, to celebrate this timeless union.
We recommend: The LaLiT Golf & Spa Resort Goa
Located on Goa's pristine southern coast this is an exotic venue for a magical wedding.
With a white-sand beach, a golf course and a spa, this hotel is the perfect choice for an indulgent destination wedding. The beautiful and innovatively landscaped gardens provide a variety of location to host your functions.
Enjoy a wedding on the gardens in the backdrop of a stunning sunset as you exchange vows, while the chefs enchant you with an array of mouth-watering fares. With a perfect blend of traditional Indian hospitality and the grandeur of a luxury hotel the Lalit is a perfect destination for a king size wedding in Goa.
TIP :Have the bride and groom make a grand entry in a speed boat.
UDAIPUR: THE CITY OF LAKES
Nestled among the Aravalli range, this city of lakes and palaces is rich in culture and heritage.
Udaipur, one of the most romantic spot in the country is renowned for its Rajputana grace and elegance. Timeless streets, grand palaces, temples and havelis lend their charm to this city.
With numerous properties, you are spoilt for choice in Udaipur. The garden of heaven, "Jagmandir Island" is a perfect venue for a royal wedding in the centre of a lake, The Leela Palace with its exotic beautiful adds glamour to any celebration, and very few properties can come close to the grandeur of the Udai Vilas.
If all the fanfare and glitz of a royal wedding is your calling, Udaipur is the destination for you.
We recommend: Udai Vilas Palace
If an intimate royal wedding is on the cards, this is a perfect location for you.
Perched on top of the Aravalli hill, its breathtaking scenery gives a royal welcome into a world of luxury and romance. With its blend of old and new Udai Vilas Palace provides modern luxury with a regal touch. The decorative structure and landscaped gardens, provide a variety of venues to choose from, while the world-class cuisines satisfies even the most delicate palette.
If the image of the sky lighting up with fireworks, as the groom makes a majestically entry on an elephant, completes your wedding fantasy, is the answer to your dream destination.
TIP :Exchange varmala encircled by artist performing the traditional ghoomar.